As a metric to calculate how rich an individual is, net worth is widely stated.
Net worth is the amount of all financial and non-financial assets minus a person's or an organization's liabilities.
An aspect of this calculation is all that can be valued: real estate, metals, factories, land, securities, bonds, patents, etc.
Loans and fees that the person or organization has to pay back will include liabilities.
Hence, Total Assets – Total Liabilities = Net Worth
Read more: Best gold investment: Digital gold vs SGB vs ETF vs Physical Gold?
Different types of assets includes
Cash and cash equivalents
Real estate
Checkings & Savings account
Investments
Jewellery
Stocks and bonds
Vehicles
Cash-valued life insurance
Retirement accounts
Furniture, Office equipment
Patents (intangible asset)
These were some of the examples of Tangible assets, however, assets also include different types of Intangible assets.
Example of Liabilities
Mortgage debt
Taxes owed
Bank debt or Loans (Car loan, Student loan)
Credit card payments
Due payments
Any other debt you owe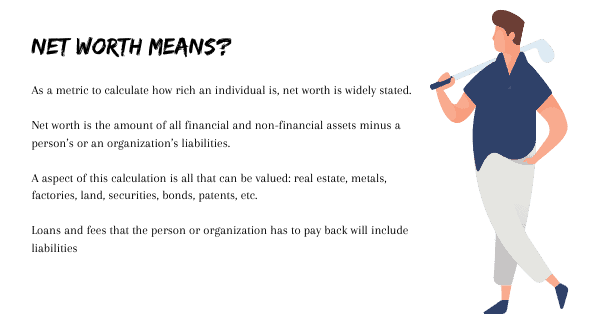 Types of Net Worth
Business Net Worth
Net worth is often referred to as book value or shareholder's equity in the corporate world. A net worth statement is another term for a balance sheet. The difference between the value of a company's total assets and liabilities is the value of its equity.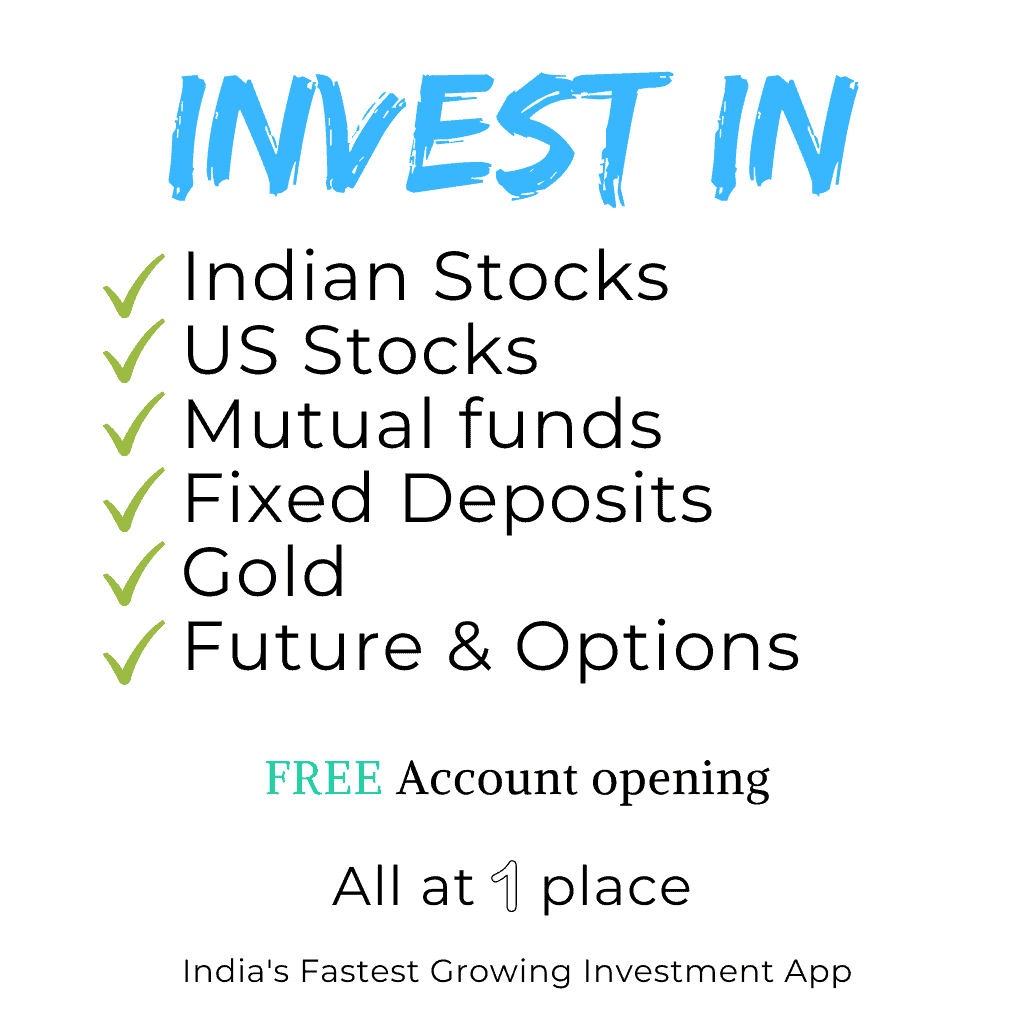 Individual Net Worth
The amount by which your assets exceed your liabilities is your personal net worth, and it is an accurate representation of your financial health.
Read more: Different types of Market Risks involved during Investments
Government Net Worth
It can also be calculated of the Government. To give a fair view of government operating expenditures, most governments use an accrual-based accounting system. Cash accounting may be used by other governments to better forecast future budgetary occurrences.
Country's Net Worth
The total net worth of all companies and persons residing in a nation, plus the government's net worth, is considered as the country's net worth.
Read more: Different types of Investment options in India
Difference between Personal and Business Net Worth
Both values represent the total value of all assets minus the total value of all liabilities. The value of assets is based on their current market value rather than their original acquisition costs for assessing individual net worth.
The value of assets is determined by their initial purchase prices rather than their current market value when calculating a company's net worth.
How do you Calculate Your Net Worth?
9 Steps to Calculate Your Net Worth
1. List out Largest Assets
Begin by making a list of your most valuable belongings. This could include the value of all the properties including the ones they are living in, any land, ancestral belongings or personal vehicles such as 2-wheeler, 4-wheeler for most people.
2. Statements of Liquid Assets
After that, obtain your most recent statements for your most liquid investments. Checking and savings accounts, cash, FDs, and other investments such as brokerage accounts and retirement accounts are examples of these assets.
3. Personal Valuable Items
Finally, make a list of any additional valuable personal things. Valuable jewellery, coin collections, musical instruments, heirlooms, a unique wine collection, and so on are examples. You don't need to include everything, but you should try to include goods worth $100 or more.
4. Add them all
Now combine all of the assets you mentioned in the first three steps. This figure indicates the entire value of your assets.
5. Calculate Your Liabilities- Outstanding Liabilities
Start with the most significant outstanding debts, such as the balance on your house or vehicle loans. Make a list of these loans, together with their current amounts.
6. Calculate Personal Liabilities
Next, make a list of all of your personal liabilities, such as credit card balances, school loans, and any other debt you may have.
7. Add all Liabilities
Add the balances of all of the liabilities listed above. This figure indicates your overall debts.
8. Calculate Your Net Worth
Simply subtract your entire debts from your total assets to get at your net worth. It makes no difference how big or tiny the number is for this exercise. It makes no difference whether the number is negative. Your net worth is only a starting point against which you may assess yourself in the future.
9. Repeat at least once a year
At least once a year, repeat the process and compare the results to the prior year's figure. You can tell if you're making progress or falling further behind on your goals by comparing the two. If you've started an ambitious saving or debt payback strategy, you may wish to reassess your net worth 4-5 times a year.
Also, you can calculate your Net worth right now, here is a great net worth calculator to begin with.
Conclusion
Net worth is the amount of money you'd have if you sell all of your existing assets to pay off all of your debts. Keeping this in mind, every financial decision you make should be geared at growing your personal net worth. You may do so by either accumulating new assets or reducing down your debts.