Disclaimer & Affiliate disclosure: The information provided on this post is for general informational purposes only and should not be considered financial or legal advice. Always consult with a financial advisor or attorney before making any financial decisions. Some of the links in this post are affiliate links, meaning, at no additional cost to you, we will earn a commission if you click through and make a purchase.
---
'What kind of business can I start with zero investment?' is one of the most asked questions. There are many ways how to earn money daily online without investment, and one of the best ways is to do it passively as a side income. That means you can earn money daily online without investment. There are a number of ways to do this, let's discuss them one by one.
How to earn Rs. 1000 per day without investment online
Sell Photos online
There is a wide variety of work that may be done from home that does not need any initial financial investment. One option is to sell your photographs on the Internet. On Dreamstime, Shutterstock, or Wirestock, you can even sell the photographs you take with your phone. The following is a snapshot of my Shutterstock account, which currently has an unpaid earned balance of $7.41 and a total of 48 photographs submitted.
Some of my photographs are downloaded many times in a single week, while others are never downloaded at all. But, you have nothing to lose by giving it a go, so give it a try. I personally like Wirestock as I need not create different accounts for each stock photography site. Instead, your work is sold on stock content markets and agencies such as Shutterstock and Adobe, amongst others.
The purchase of a licence that is royalty-free and non-exclusive and that enables an unlimited number of paid downloads of the same picture, graphic, or movie over the course of time is the most prevalent kind of transaction. As a result of this, you will be able to collect recurrent royalties from numerous customers for the same piece of work.
Wirestock provides its contributors with a one-of-a-kind feature called "Easy Submission," which enables them to circumvent the step-by-step procedure of filling out mandatory fields such as descriptions, titles, and keywords. In order to assist you in increasing your sales, the relevant information will be filled up by specialists in Wirestock submissions. To all of Wirestock's contributors, it comes completely and totally free of charge.
Automatic Content creation
Write content for your clients. But wait, there are two issues:
I am not a writer and I don't know abcd of writing and second is
I don't have clients
You need not worry about any of these. You are able to generate content without cost and then sell it on marketplaces like Fiverr or create a blog free of cost on blogger which is discussed in the next point. There are a number of free artificial intelligence technologies available, such as Jasper, Writesonic, and Peppertype, that can produce long-form writing on any subject you choose at no expense. The article that is created is wholly original and devoid of any instances of plagiarism.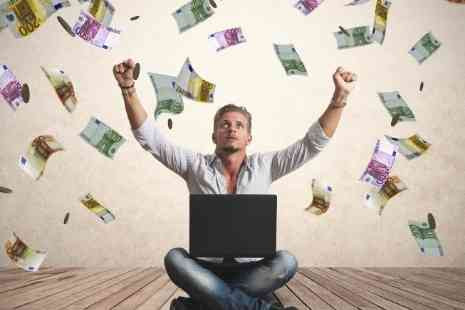 You may start by charging $0.001 per word and then gradually raise the price to $0.003 each word. On these programmes, the only thing you need to do is type in the name of the 'Title' you want to write about, and the content will be created for you automatically. Writesonic is what I use personally. Remember to go through the article once and check its quality before publishing or selling it to clients. You may earn money daily online without investment if you choose any of these ways on how to earn money daily online without investment from the comfort of your own home. It won't cost you anything to explore these possibilities, so why not?
Earn money daily online without investment
Refer Financial products
When it comes to how to earn money daily online without investment, referring is a common and free option. Bank Sathi is a one-stop solution that allows you to earn money daily online without investment by selling the financial products of thirty or more renowned firms, such as Kotak, Axis Bank, KreditBee, Paytm, Razorpay, and many more of the same kind.
You have the opportunity to make a significant amount of money just by promoting the goods and services offered by partners to anybody you want. If you are interested in gaining further knowledge, we ask that you visit the Bank Sathi website or download the Bank Sathi app.
Bank Sathi is compatible with a large number of different websites. When you use Bank Sathi, you not only have the chance to get cashback, but you also have the possibility of earning up to Rs. 50,000 every month in additional income.
Use the referral link and earn Rs.450 as a welcome bonus.- https://banksathi.page.link/Go8j
Start a Blog if you have time
Note the word 'time'. Read the next paragraph only if you have time and can invest sufficient of it.
One of the best is to create a blog or website for free on Blogger or buy a domain and hosting at a cheap price and then monetize it with advertising or affiliate marketing. This can be a great way to earn a passive income, as you can simply create the site and then let it run on autopilot, earning you money every day. Creating a blog and monetizing it via paid memberships is still another option. You are able to create material with the assistance of AI content-generating tools, which is discussed in earlier paragraphs.
How can I make Rs. 100 to Rs. 500 daily online, without investing money, only by investing time?
If you're looking to how to earn money daily online without investment, there are a few options available to you. First, you can start a blog and monetize it through advertising, affiliate marketing, or selling products and services. Another option is to start a YouTube channel and monetize it through advertising or selling products and services. Finally, You have the option of working as a consultant or as a freelancer. You can start a freelancing business and offer your services to clients online. Whichever option you choose, be sure to put in the work and dedication needed to succeed. With a little effort, you can start earning money online without investment in no time.
What kind of business can I start with zero investment?
There are a number of businesses that can be started with little or no investment. One option is to start a service business, such as a pet-sitting business, where all you need is a phone and transportation. Another option is to start a direct sales business, such as Avon or Mary Kay, where you can sell products without needing to maintain inventory. Finally, you could start a freelance business, such as writing, design, or web development, where you can work from home and set your own hours. With a little creativity and effort, almost any type of business can be started with little or no investment.