A bubble is defined as a period of time during which the market value or price of assets rapidly increases.
The price of the provided assets is considered to be overvalued during a bubble.
A 'bubble burst' or a 'crash' occurs when the value of these assets begins to quickly decline.
Bubbles are said to arise as a result of shifting investment behaviour; some feel that a bubble creates a shift in investing time-frame from long to short.
You may recall or have read about how, in the 1990s, individuals were pouring money into all tech firms in an attempt to get a share of the internet as the values of tech stocks skyrocketed.
People began to sell their stocks as soon as they realised there was nothing substantial in these excessive prices, and the markets crashed.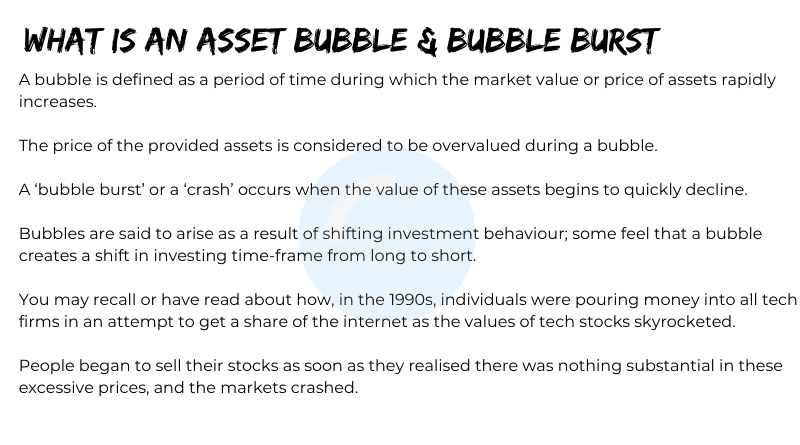 Post Disclaimer
Information provided on this website is for Educational & Informational purposes only and is not considered to be advice or recommendation of any kind whatsoever. Anyone who wishes to apply the concept & ideas contained in this shall take full responsibility. Readers should always do their own diligence on any information perceived from this site to form their own opinion and best judgments. Any action you take upon the information you find on this website (letsthinkwise.com), is strictly at your own risk.