Indmoney is an Indian investment platform that provides users with access to Indian stocks, mutual funds, and ETFs. It was founded in 2016 by Ashish Kashyap.
Indmoney app review
Indmoney US stocks review is the most asked question when investing in US stocks. Today I am going to do Indmoney app review.
Let's begin with the Indmoney app review and answer a common asked 'is Indmoney safe?'
What is INDmoney
INDmoney is a personal finance management app that helps you track your expenses, set budgets and save money. It is available for free on Android and iOS devices.
The app has a simple and user-friendly interface. You can add expenses under different categories and set budgets for each category.
INDmoney is a great app for people who are looking to save money and manage their finances better. It is easy to use and provides helpful insights into your spending habits.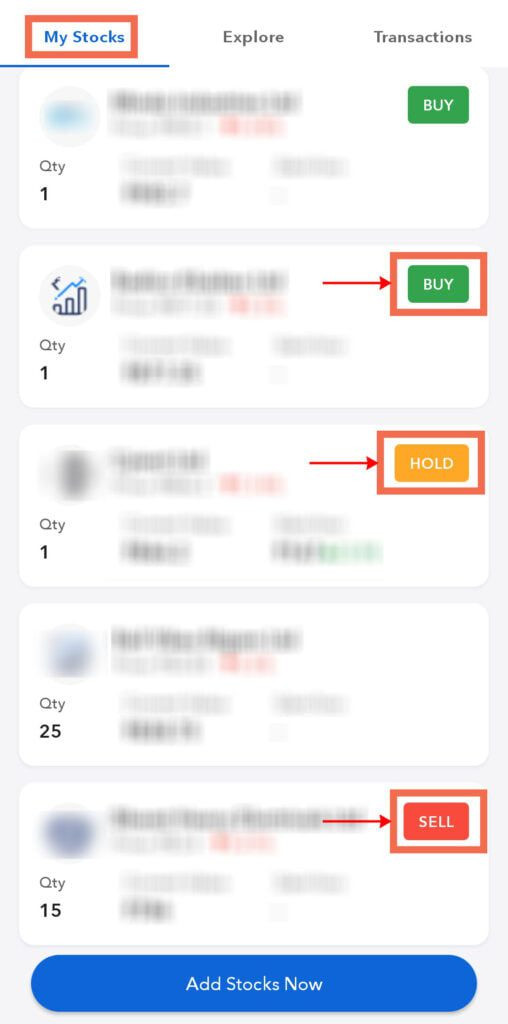 How INDmoney works
The Indian stock market is one of the most volatile and complex in the world. With over 5,000 listed companies and billions of dollars worth of transactions taking place every day, it can be difficult to keep track of everything that's going on.
Also read: How to earn money daily online without investment
That's where INDmoney comes in. It is a financial technology company that provides stock market tracking and analysis tools to help investors make better-informed decisions. The platform enables users to track real-time stock prices, news, and trading activity, as well as access detailed company financials and research.
With INDmoney, you can stay on top of the Indian stock market and make the most informed investment decisions possible.
If you want a platform which can track everything from daily expenses/investments to credit scores. Skip the rest of the article and download INDmoney now.
Read also: Upstox benefits
Is INDmoney Safe?
Is INDmoney safe is a question often asked. Yes, the INDmoney app is safe. In order to track your spendings, such as credit card and bank transactions, INDmoney requests permission to access your messages and emails. You could be concerned about whether or not your information is in secure hands.
It only reads information from bank emails and messages and ignores all other emails and messages.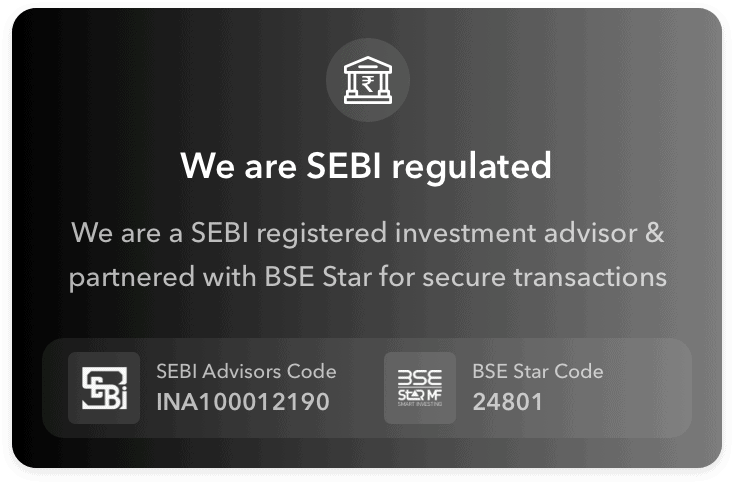 It is a secure platform that helps you manage your finances and make payments easily. The app is developed by a team of experts who are committed to providing the best possible experience to users. The app is regularly updated with the latest security features to ensure that your data is always protected.
INDmoney has been managing its cloud infrastructure with Amazon Web Services (AWS), a best-in-class cloud infrastructure provider, in accordance with the AWS Well-Architected Framework.
An authenticated encryption protects the data that is stored. In addition, Bishop Fox – A Google Partner does a security check for INDmoney.
Bishopfox is a highly esteemed company that offers safe platforms. Global industry leaders such as Zoom, Amazon, Google, and Coinbase all utilise Bishopfox to provide their customers the highest possible level of protection.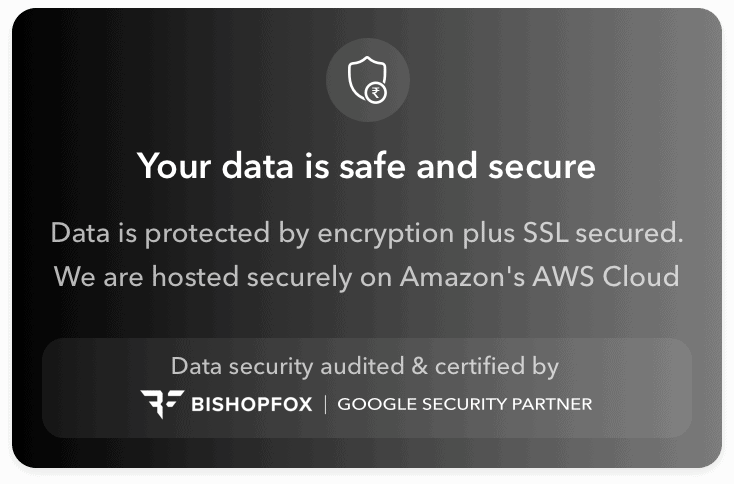 Because of this, using INDMoney to share information about your bank account, credit card, or other forms of financial information is completely risk-free.
INDmoney is a registered investment advisor with the Securities and Exchange Board of India (SEBI). Read privacy practices of INDmoney
Option for a Reliable Chat
If you are a premium member of INDMoney, you have access to a rich talking feature that is referred to as "chat with your expert." This feature is powered by "Freshchat," which is recognized as one of the most reliable and secure chatting systems available.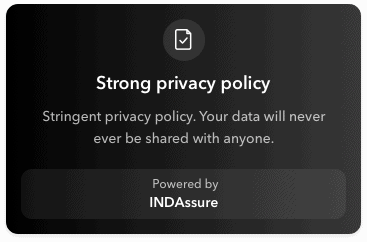 The absence of an in-house talking platform, on the other hand, raises eyebrows since most major firms of this magnitude avoid using third-party apps and instead have their own systems created in-house in order to provide more secure platforms.
It is safe for you to discuss your sensitive information with their specialists through chat; nevertheless, it is up to you to decide whether or not doing so feels comfortable to you.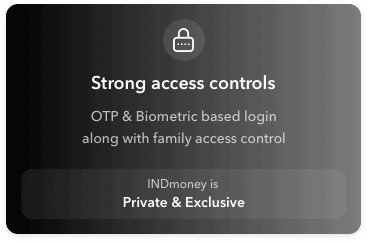 Read also: Teji Mandi Review: Is it worth Investing in the Teji Mandi portfolio?
INDmoney charges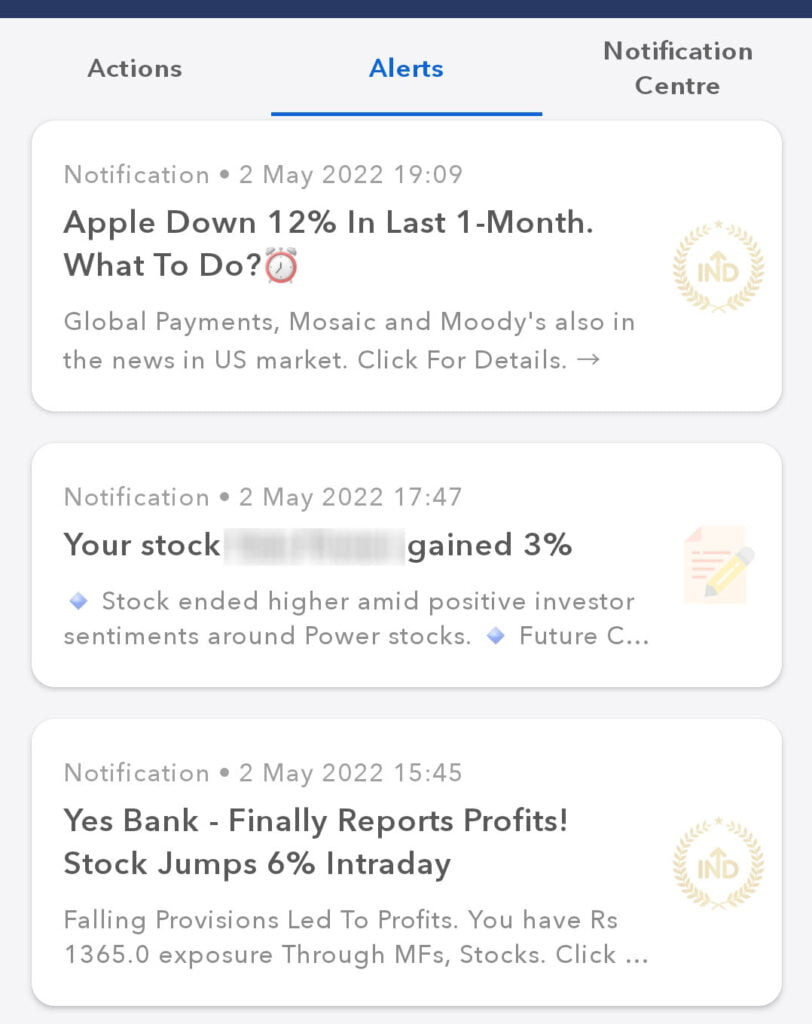 lNDmoney A/C opening- ₹0/-
KYC- ₹0/- ₹0/-
Brokerage/ Commission- ₹0/-
Tracking money- ₹0/-
Add family member- ₹0/-
INDmoney US Stocks charges
US Stocks A/C opening- ₹0/-
KYC- ₹0/-
Super saver account opening charges- ₹0/-
Fund Withdrawal Charges- $5 (lowest in India)
Tracking charges- ₹0/-
Account maintenance charges- ₹0/-
Trading charges- ₹0/-
Charges outside of lNDmoney- Check here
Mutual Funds
lNDmoney A/C opening- ₹0/-
KYC- ₹0/-
Brokerage/ Commission- ₹0/-
Tracking charges- ₹0/-
Switch from Regular to Direct- ₹0/-
SIP- ₹0/-
Rebalancing- ₹0/-
US Stocks A/C opening- ₹0/-
KYC- ₹0/-
Super saver account opening charges- ₹0/-
Fund Withdrawal Charges- $5 (lowest in India)
Tracking charges- ₹0/-
Account maintenance charges- ₹0/-
Trading charges- ₹0/-
Charges outside of lNDmoney- Check here
FD
FD A/C opening-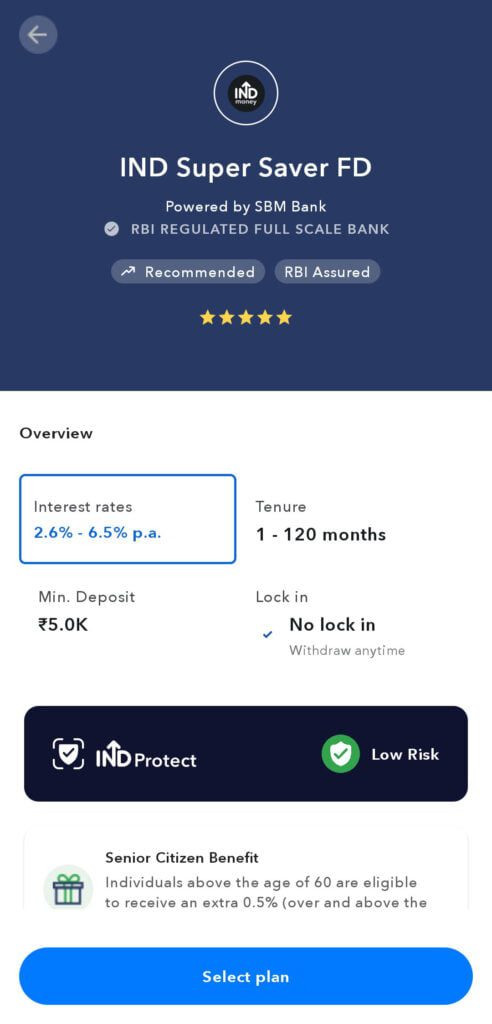 KYC- ₹0/-
Brokerage/ Commission- ₹0/-
Tracking charges- ₹0/-
Charges outside of lNDmoney- Check here
INDmoney vs Zerodha
INDmoney and Zerodha are two of the most popular online brokers in India. Both offer a wide range of features and services, making them a great choice for Indian investors.
INDmoney is an online investment and trading platform that offers a wide range of features and services. Zerodha is a similar platform that is known for its low fees and easy-to-use interface.
Both INDmoney and Zerodha offer a variety of investment options, including stocks, mutual funds, and ETFs. Both platforms allow you to set up a demat account and trade online. However, Indmoney has a few advantages over Zerodha.
INDmoney offers a more comprehensive range of products and services, making it a good choice for investors.
You can also tell your INDmoney referral code to your friends and you both can get a free US stock for free worth Rs.1000.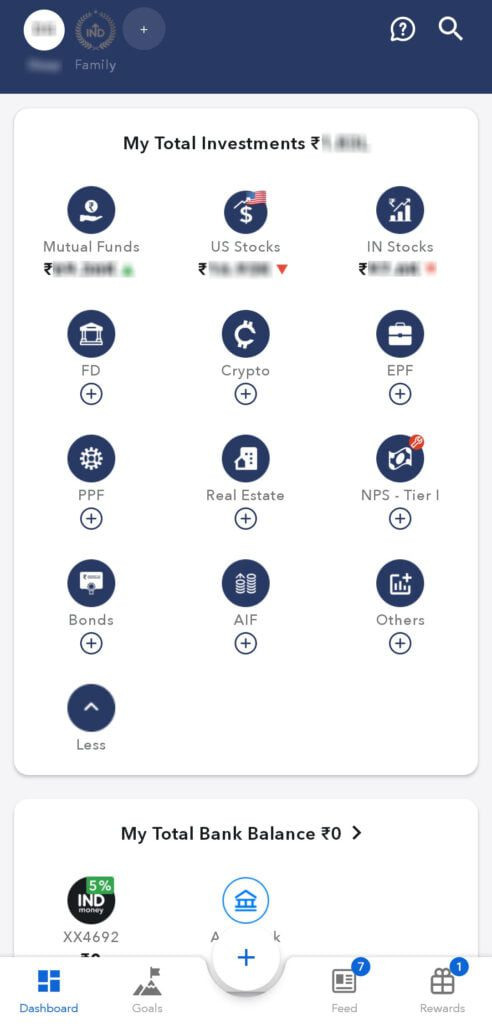 Tracks all your stocks and mutual funds investments, expenses, credit cards, and insurance plans in one place.
Investing in US stocks without paying a commission
Money transfer to a US stock account with no hassles
Cheapest withdrawal charge from a US stock account
Interest rates on FDs are higher.
Provides Advisory And Portfolio Management
Allows to buy Fractional Shares
How do we get a dividend from US stocks if you invest in US stocks using INDmoney?
The dividend amount will be automatically deposited to your INDmoney account when stocks pay dividends. These dividends are taxed at a rate of 25% at the point of receipt. As a result, the money you receive in your US stock account as a dividend payment will be after tax. You will earn $7.5 if a US-based stock declares a dividend of $10. In India, however, your tax liability is assessed at $10.
You may, however, deduct this tax in your yearly income tax returns in India and receive full credit for it. When you open a US stock account and become a premier member of INDmoney, they handle all of the paperwork for you, allowing you to take advantage of this tax benefit.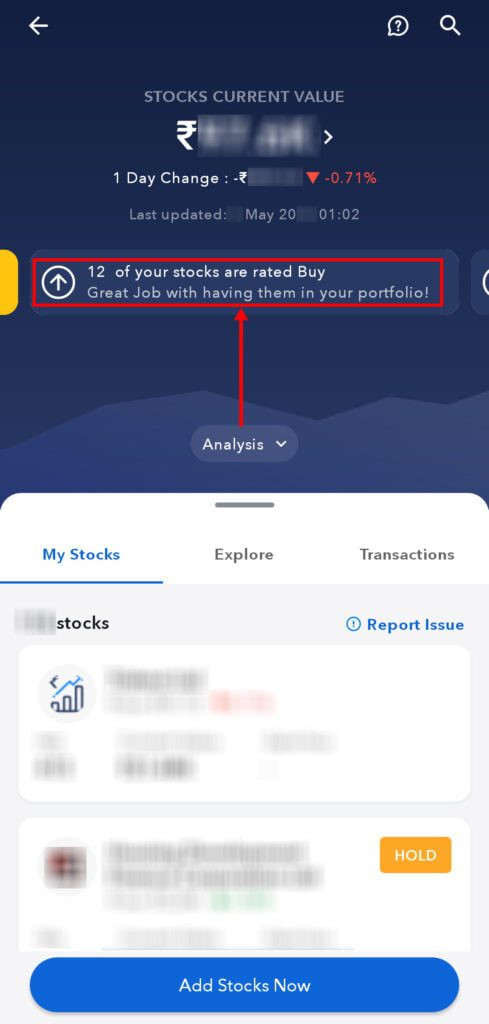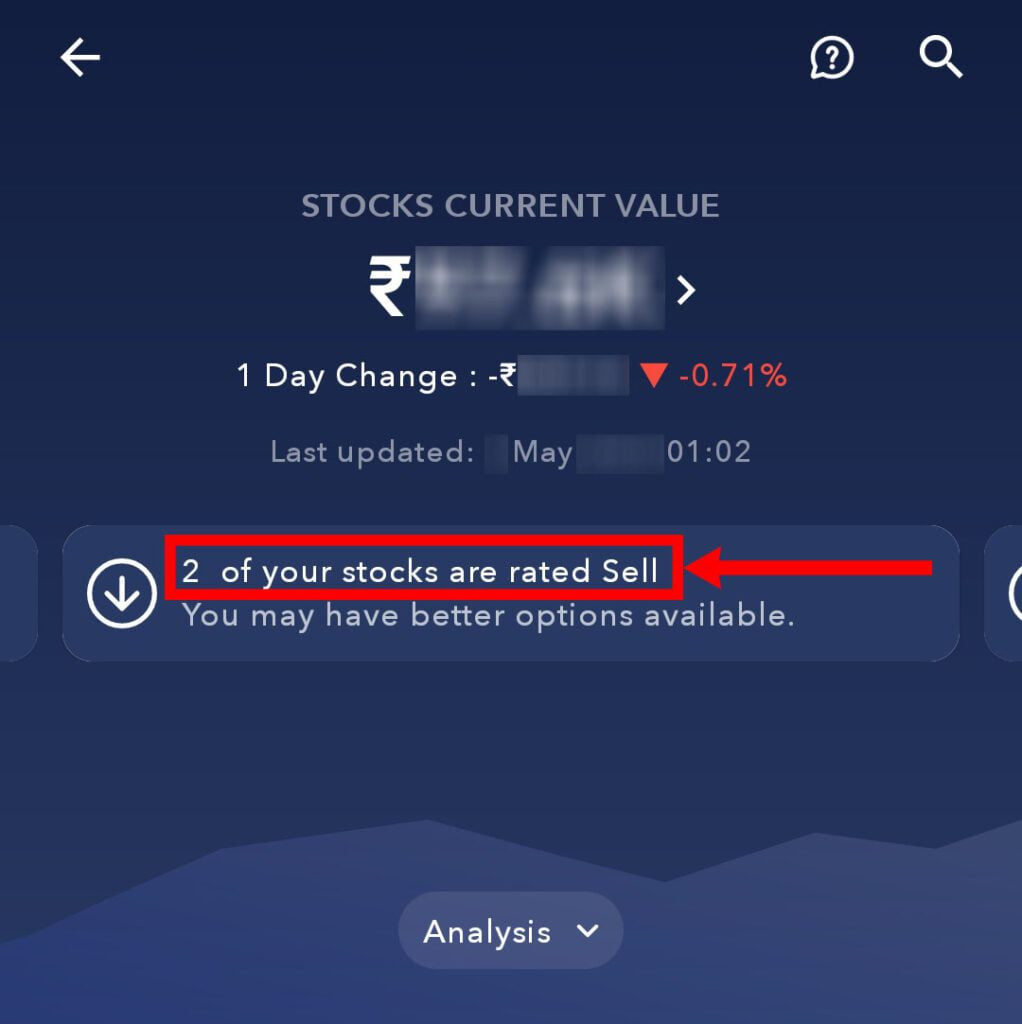 INDmoney and Vested platforms
On both platforms, there is no commission on buying and selling. For withdrawals under $2,000, Vested previously charged $11 every withdrawal but now charge $5 per withdrawal just like INDmoney ($5 per withdrawal). Withdrawals of more than $2,000 are free of charge at INDmoney.
If you don't plan on making modest, short-term withdrawals, INDmoney is the way to go. If you want to trade a lot and make regular withdrawals, vested is the way to go.
INDmoney is a comprehensive tool that assists you in managing and tracking your financial assets in India and the United States. It also keeps track of your costs and makes crypto trading easier. You can see a detailed comparison between Indmoney vs Vested comparison for US stocks Investment.
Use Indmoney referral code DEEQQ01USS while signing up for INDmoney to support us.
Advantages of INDmoney
People usually use spreadsheets to manage and track their money, but it quickly becomes inconvenient to update assets and maintain the current worth of your assets. INDmoney has solved this problem by forming partnerships and integrating with many platforms, automating the entire process.
Once you start tracking your net worth, the app will provide you with personalised financial advice, such as:
You may save an extra 1.5 percent by moving from regular to direct mutual funds.
Rebalancing or refinancing your existing home loans to lower your EMI.
Identifying any non-viable investments (poorly rated debt instruments).
Increasing your ideal money's earning potential by shifting part of it from savings accounts to liquid funds, and much more.
The app also allows you to invest directly in mutual funds, US stocks, bonds, and PMS, among other products, and backs each one with high-quality, unbiased research and advising.
Expense tracking is included in the app to assist you in keeping track of and optimising your costs and budget.
The app is actually a Super Money App, since it covers all elements of your personal money and those of your family.
Furthermore, INDmoney is a SEBI-registered company that assures bank-level data protection; the security assessment was performed by Bishop-Fox, a reputable security firm that is Google-certified.
Conclusion
INDmoney is a great app for tracking your expenses and saving money. It's easy to use and has a lot of features that make it very helpful. The app is free to download and use, and it's available for both iOS and Android devices.
I've been using INDmoney for a few months now, and it's really helped me to stay on top of my finances and save money. The app is very user-friendly and has a lot of features that are really helpful, like the ability to track your spending, set budgets, and see where you can cut back on expenses.
I have been using the INDmoney app for a while now and I absolutely love it! It is so convenient and easy to use. I can track all of my expenses and income in one place, which is really helpful. The app also has a great budgeting feature that I have been using to help save money. Overall, I highly recommend the Indmoney app to anyone who is looking for a good financial tracking and budgeting tool. The app can help you track your net worth across assets and liabilities such as bank balance, stocks, EPF, PPF, bonds, mutual funds, loans, credit cards, and various other instruments.
Overall, I highly recommend INDmoney to anyone looking for a great app to help them save money and stay on top of their finances. It's helped me a lot, and I'm sure it can help others too!
Indmoney reviews
These are some of the Indmoney reviews written by users:
I appreciate using the IND money app for investing in U.S. equities for a number of different reasons. One of the reasons for this is that it is really simple to use and straightforward to browse. One further incentive is that it offers a wealth of information, including stock quotations, news, and analyst ratings, which can all be accessed via it.

Abhay Shukla
I like the INDmoney app for several reasons. It is very user-friendly and easy to navigate. Second, it offers a wide variety of features and tools that make it a great resource for investors. Third, it is constantly being updated with new features and information, which makes it an valuable resource for anyone interested in investing in US stocks. Finally,

Rimjhim Sachadeva
The customer service is excellent and they are always willing to help with any questions or concerns you may have.

Surender Sharma
I like that it comes with a built-in tool for managing my portfolio, which allows me to monitor the progress of my assets at any time.

Sumit Agrawal
FAQs
What is Indmoney referral code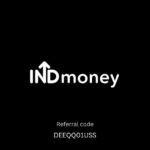 Indmoney referral code is DEEQQ01USS. Use during signup to support us.
How to use code in Indmoney
When you join up with Indmoney, you will be given the option to redeem a referral code. You can use the code DEEQQ01USS to open an account for free.
Indmoney review
INDmoney is a great app for investing in US Stocks. It helps save money and manage finances. It's simple to use and offers spending insights. Use referral code DEEQQ01USS on signup to support us.
Is INDmoney safe
Yes, INDmoney is safe. INDmoney wants permission to access your messages and emails to monitor your spending. You may worry about your data's safety. It only reads bank emails and ignores others.
How is Indmoney app?
INDmoney is a great app for tracking your expenses and saving money. It's easy to use and has a lot of features that make it very helpful. The app is free to download and use, and it's available for both iOS and Android devices.